Company News
Product News
Nov 16, 2021
EverExceed recently held a culture sharing meeting about "Islam & Muslim Culture" to know more details about International Muslim customers' beliefs and customs. EverExceed has been working in the power industry for more than 30 years with international customers and maintaining good business re...
May 29, 2020

EverExceed recently has finished the manufacturing process of large number of industrial battery chargers smoothly in the workshop under necessary and safety precautions against COVID-19 outbreak. The chargers have been already shipped to its destination after the quality checking process successful...

more

Apr 16, 2020

EverExceed has recently passed the high-tech enterprise assessment & successfully achieved "high-tech enterprises" certificate (Certificate number: GR201944201786). It is a matter of great honor to achieve this national certificate in the field of science and technology & and is another mile...

more

July 31, 2019

Recently, EverExceed representatives have successfully attended a business trip in Indonesia. The agenda of their visit is to interact with the Indonesian customers and make a good bonding for a long term business relationship with them. Previously together we have successfully completed many projec...

more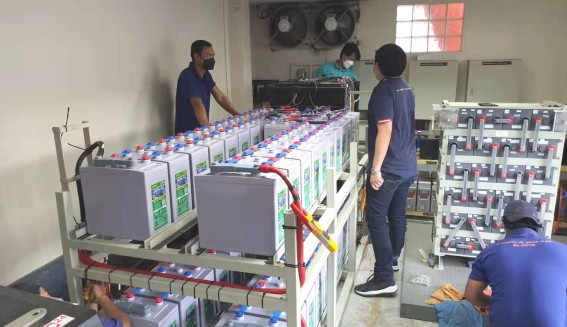 Nov 23, 2021
Recently, our Thailand customer successfully completed the installation of 2V Modular Max AGM Range VRLA batteries for 48Vdc backup system on Telecom site in Thailand. Our experienced engineers helped designed the battery cabinets to ensure the installation smoothly. Now the whole system worked well...
Nov 23, 2021

Recently, one of our Lebanese customers successfully finished the installation process of Solar Gel Range VRLA Batteries for solar project in Lebanon. Our experienced engineering team designed the battery cabinets according to the project requirements to make the installation process smooth. The cus...

more

Nov 19, 2021

Recently EverExceed successfully completed the mass production of outdoor energy storage solution with built-in battery for Saudi Arabia Oil & Gas project. This 48VDC Energy Storage solution has 60A DC output, solar power 3KW & energy storage 40kWh. It meets up to IP55 pr...

more

Nov 17, 2021

EverExceed successfully completed the production of 24sets ER series Outdoor Telecom Power Supply System. These are customized pole mounted outdoor cabinet systems for a renowned Telecom company in Bolivia. The system cabinet structure is made of robust stainless steel with IP55 protection to ensure...

more