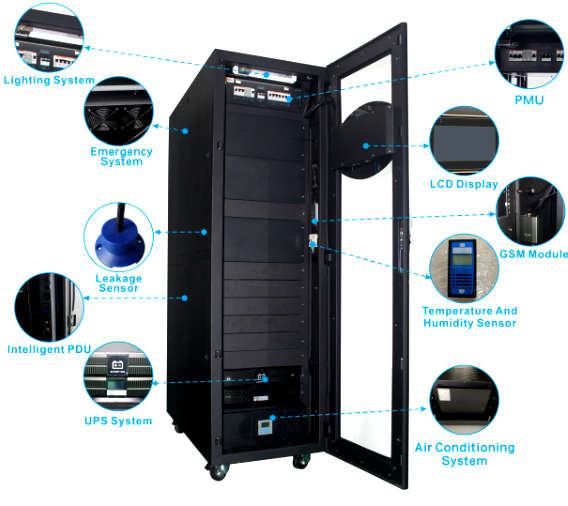 Innovative features & advantages:
---



Convenient & fast:
It integrates subsystems such as cabinet, monitoring system, power supply and distribution, battery and air conditioner which make the solution compact, free of site investigation, easy to install and ready to use always.




Safe & reliable:
Fully enclosed micro-environment, small dependency on surrounding environment with dustproof, anti-seismic and anti-noise characteristics greatly reduce the failure rate of IT equipment and extend the life cycle of the equipment. Smoke detection and automatic fire extinguishing (optional) system to prevent damage caused by fire.The perfect monitoring system with multi-level automatic alarm function can remotely understand the situation inside the cabinet and improve the safety as well.




Energy efficient:
Fully enclosed cabinet has cold and hot aisle, closed structure, near end cooling and air conditioning system.Energy consumption is greatly reduced by using high efficiency modular UPS and flexible configuration.




Intelligent management:
LCD screen display, friendly interface, optional mobile APP function can support SMS function when any equipment abnormal situation occurs.365 days 7*24 hours unattended remote monitoring and intelligent user management can minimize IT deployment and operation & maintenance costs.
Applications:
---
City police station outlets, small and medium-sized enterprises, computer rooms of large scale enterprise, branches, telecom business offices, bank outlets, petrol/petrochemical petrol stations, railway communications, equipment rooms, highway toll booths etc.