More Power, Less Space
Versatile & high flexibility Unilyte Range VRLA Battery
A proven power solution for telecommunications, UPS, electric utility and renewable energy applications.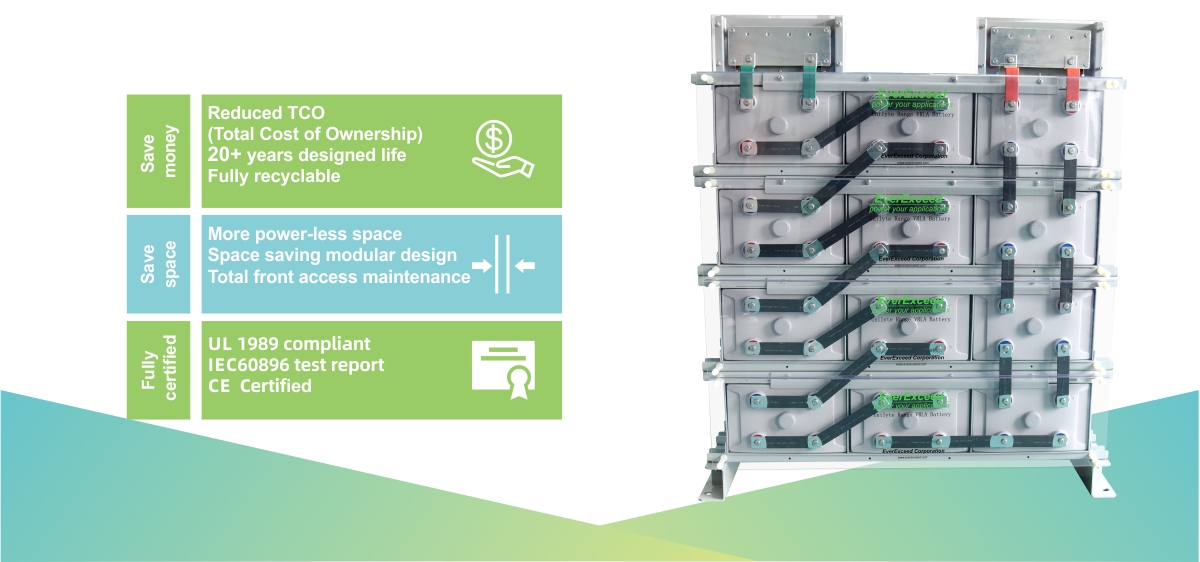 Technical Features:
• 20+ years design life in float service @ 25℃;

• 99.994% pure lead excels performance and lifetime;
• Modular space saving design for ease of installation and assembling flexibility;
• Exceeds UBC Zone 4 seismic grade installations requirements;
• Advances Lead-Calcium-Tin-Silver positive grid alloy provides long life in both float and cycling
applications as well as outstanding recovery from deep discharges;
• Advanced micro porous Absorbed Glass Mat separators for ultra low float current and greater than 99% recombination efficiency reduces grid corrosion and water loss, ensures super long service life;
• Nano-Carbon enhanced active material to maximize cycle performance and PSoC operation;
• Heavy duty Silver plated threaded copper alloy terminals for ease of assembly, reduced maintenance and
increased safety;
• Proprietary Fixed Orifice Plate Pasting technology applying active materials on both sides of the grid for
consistent cell-to-cell performance, results in high energy density and low float current;
• Flame arresting, low pressure safety release venting system for individual cells, recognized per U.L. 924;
• Thick plate design for extra long deep cycle life;






Cells Configuration
General Features:
• Valve Regulated (Sealed) Construction
Unilyte Range valve regulated AGM (Absorbed Glass Mat) rechargeable lead acid batteries are for safe, maintenance free operation in Vertical or Horizontal position.
The acid is suspended in a specially formulated non-woven glass mat separator. All the acid is absorbed in this manner and it provides a safe leak proof & non-spill able battery.
• Gas Recombination System
The gasses generated in the normal charge / discharge use of the battery are recombined during normal operation. In normal operation, more than 99% of the gases generated
are efficiently recombined.
• Maintenance Free
The Battery has been designed and built such that no addition of electrolyte is needed for the life of the battery. There is no need to add water or take specific gravity readings.
• Battery Life – Float Service
EverExceed Unilyte Range is designed for float (Standby) service with design life of 20+ years at 25ºC (77ºF).
• Battery Life – Cycle Service
EverExceed Unilyte Range is designed for more than 4000 charge / discharge cycles @ 30%DOD, actual cycle times will depend on the Depth of Discharge (D.O.D.).
• Safety Valve
If excess pressure builds up within the battery, the safety valve automatically opens and re-closes, releasing the gas at 3-10 PSI. The valve does not allow the ingress of oxygen
which is harmful and reduces the life expectation of the battery.
• Temperature Range for Normal Operation
EverExceed Unilyte Range has a wide operating temperature range: -40°C (-40°F) to +70°C (+158°F) . However for maxi-mum life and safety, continuous operation over 45ºC is not
recommended. Grid Design and Paste Formation
• Grid Design and Paste Formation
EverExceed has optimized the grid design and paste for-mation to maximize the operating and storage life of the AGM battery. This optimized design provides the following advantages:
① Excellent recovery from deep discharge or over discharge;
② Low self-discharge rate (<3%/month) to ensure maximum storage time when not in use;
③ Adequate safety margins in tough operating conditions;



① Plates: Lead calcium tin alloy, adopt 99.994% pure lead and high tin design for optimized for high corrosion resistance.
② Separator: Separator: Highly porous glass micro-fibre separator, optimized for low internal resistance, for maximum Absorption
of the electrolyte and for electrical separation of the positive and negative plates.Highly porous glass micro-fiber separator,

optimized for low internal resistance;
③ Standard housing: Reinforced ABS container and cover;Standard Housing: Reinforced ABS (UL 94HB) container and cover.
④ Terminals: Silver plated Copper female insert for easy and safe assembly and maintenance free connection with excellent conductivity.
⑤ Valves: Release gas in case of excess pressure and protects the cell against atmosphere.






Typical Triple Barrier Post Seal Detail:
•Network Operations Centers

•Internet Hosting Sites
•Banks & Financial Markets
•Uninterruptible power systems
•Power Plant and Substation
• Railroad signal and communication
• Telecommunications
•Photovoltaic
•Alternative energy systems
•Switchgear and control