Rechargeable BMS 512V 75ah Lithium Ion Battery for CATV
Key Features:
•Performance:
1.LFP provides 100% of usable energy, so that you can discharge the battery entirely without causing downtime of your operation.
Offers up to 10 times longer cycle life3000+ life cycles and more than 15 years of design life, 5-6X longer life than Lead-acid
allows you to set it and forget it;
2.5X faster charge improves recovery;
3.BMS provides up-to-date insight into battery performance;
4.Provide extended backup time during a power event;
5. Ensures 24/7 system uptime while delivering significant total-cost-of-ownership (TCO) savings.

•Safety:
1.Lithium phosphate battery chemistry is stable and safe;
2.Battery management system (BMS) actively monitors temperature and charge cycles;
3.No recycled cells are used, all the individual cells are sorted in a very precise range according to their capacity to ensure complete
reliability of the battery pack;
4.Extended warranty ensures operational reliability;

•Installation:
1.Save money on battery replacement costs, at similar duration of operation time, lead acid batteries need at least 3-4 times replacements;

2.40% weight reduction minimizes weight load and area of the system and also eases installation;
3.Shift your refresh cycle to be in line with your IT equipment;


BMS Display: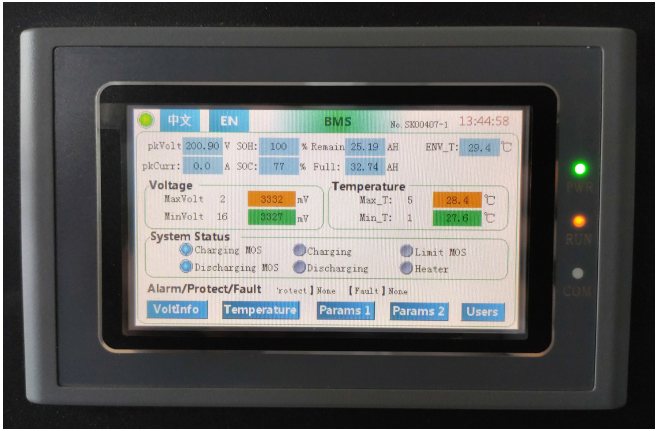 Application:
•

CATV
•

UPS
•

Energy storage system
•

Emergency lighting
•

Medical equipment